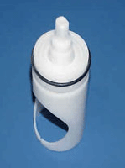 HotSpring & Tiger River Spas - Parts - Valve Kit -

 
Kit used to replace the diverter in pretty much every Hot Spring and Tiger RIver spa created between 1994 and 1997.
If are unsure if this will fit your spa, give us a email with your serial number and we'll help you out. Be sure to purchase a snap ring (see below) that is used to hold the Valve Kit inplace. When you remove the snap ring should break! Snap rings fit all diverter assemblies regardless of year.