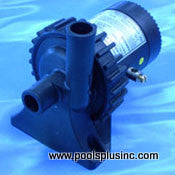 This Silent Flo E5 is the most recent circulation pump being use for Hot Spring Spas starting in 2006. Most every spa owner will utilize the Silent Flo E5 pump (formally called Silent Flo 5000). However, if you have a 1995 or 1996 spa read about the Silent Flo 5002 pump shown below. 
Older spas that have Groundfos, Cal, Laing (Lange)303, brand circulation pumps will require a Silent Flo Plumbing Kit (listed below) in order to retro the pump into the existing equipment. The pump DOES NOT come with a cordset, but, if a new one is required they are listed below. We only sell new pumps made by Watkins manufacturing here at Pools Plus, no rebuilds!
For those replacing a Silent Flo 5000, the manufacturer of the pump, Watkins Manufacturing, has recently updated their product to the Silent Flo E5. There should be no adjustments to retrofit the old pump to this current version. Though there is a significant appearance difference, the E5 will operate similar to your version you are replacing. 
For wiring instructions, the pump has indicators as to which wire goes where. If you need additional instructions, please email sales@poolsplusinc.com
Part Number: 74427