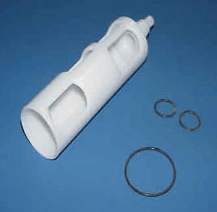 HotSpring & Tiger River Spa Parts -

 
Complete Kit used to replace the diverter in a spa that uses FOUR positions. Spas that use a 4 position diverter include: 
Hot Spring Sovereign 1998 to 2003 
Hot Spring Prodigy 1998 to First Quarter 2002 
Hot Spring Classic in 1998 and 1999 
Tiger River Siberian 1998 and 1999 
Tiger River Bengal 1998 to 2003 
Be sure to purchase a snap ring (see below) that is used to hold the Valve Kit in place. When you remove the snap ring should break! If are unsure if your spa has two or four positions give us a email with your serial number and we'll help you out. 
If you have a Tiger River Spa and the valve handle has become difficult to turn there may have been some dirt in the line brought in though the suction grate. Make sure you have WAT35463 Suction Screen installed over it to catch dirt and debris.